This is a turning point in the history of the association: we develop on the international scale! Last November, a Swiss branch of the association was officially created. An event celebrated during a dinner in Geneva.
We had this idea in mind for several months. With a President and an Honorary President both based in Switzerland, the temptation was great to be more present there. Over the past few months, we have therefore been working on setting up a new association. No worries, our missions, our actions and of course our values remain the same. The creation of the Swiss branch will actually allow us to strengthen our possibilities of action.
On the one hand, we will be able to educate a new public. Even if our communication media, generally translated into several languages, was already reaching the Swiss population, we are now planning actions directly in the country, with a stronger impact. A first event took place in Geneva in November: an evening of celebration, in the presence of our Honorary President Vera Michalski-Hoffmann. Our guests were welcomed in a historic building, in the heart of the old town. On the program: Caribbean cocktails in front of a photo exhibition of Caribbean wildlife, presentation of the association by our President Jean-Paul Paddack, videos about our projects created especially for the occasion, and a dinner with a menu that took our guests on a journey to the Caribbean. Our students were represented on site by Claudia Loiz, PhD student from Cuba, supported by video testimonials recorded for the occasion by Nicole Atherley, from Barbados, and Christopher Cambrone, from Guadeloupe, both Doctors in Biology thanks to the support of Caribaea Initiative.
The creation of the Swiss association also aims to strengthen our financial autonomy, and therefore to enable us to support a growing number of Caribbean students and to be able to carry out various research projects. Donations made through this new association will indeed be eligible for tax deductions in Switzerland, whereas such deductions were until now only possible for France. Some of our guests in Geneva have generously offered their support, by choosing certain projects for which they wish to contribute financially. More than specific research projects, it is the funding of new students that seemed most important to our donors, and we are grateful to them for their help in this mission which constitutes the heart of our actions.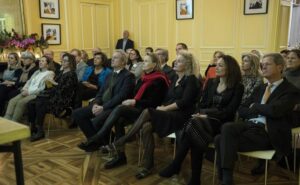 The team of the young Swiss branch of Caribaea Initiative is already in place, with Ms. Vera Michalski-Hoffmann as President, Mr. Jean-Paul Paddack as Vice-President and Mr. Tobias Salathé as Treasurer. It still requires some adjustments, in particular with the establishment of a membership system, which is currently being created. You can already go to the page dedicated to the Swiss branch to find out how to be part of the adventure. We hope to have the pleasure of meeting soon new people as passionate as we are at the next event!
Acknowledgements: we would like to warmly thank our Honorary President, Ms. Vera Michalski-Hoffmann, for her support, help and presence during the evening in Geneva.
Photo at the top of the article: Sara Genta (administrative secretary), Claudia Loiz (PhD student), Dr. Sophie Labaude (communication manager), Jean-Paul Paddack (President).