To better meet the needs of the association, a branch of Caribaea Initiative was created in Switzerland in November 2022. The Caribaea Initiative Suisse association is independent, and has its own membership and donation system. These are tax deductible.
While waiting for a dedicated website, do not hesitate to contact us for more information.
Find the list of projects supported by the Caribaea Initiative Suisse association: Download the project descriptions (PDF)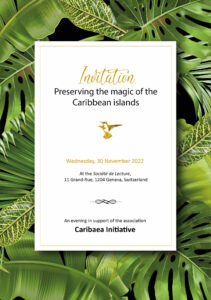 Next event: Dinner in Geneva
Download the programme and invitation
With the support of Blue Heron Productions and Mary Hofstetter.