#GivingTuesday is coming! Check out our Facebook page. The countdown is on!
GivingTuesday was created in 2012 as a simple idea: a day that encourages people to do good. Over the past seven years, this idea has grown into a global movement that inspires hundreds of millions of people to give, collaborate, and celebrate generosity. This year, GivingTuesday is December 3rd.
Will you take part of the 2019 edition? If yes, you may wish to support our students and the animal species they work on.
Until December 3rd, we would like to call on your generosity to participate in this fundraising campaign  to help us built relevant conservation projects and trained promising students:
>> https://www.helloasso.com/associations/caribaea-initiative/formulaires/1/widget <<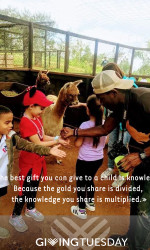 If you wish to help us, this is a great time to do it!
Stay connected, release your #generosity and share your photos on our Facebook page!